www.NPR.org - Interview with Howard Levy
Howard Levy: Reinventing The Harmonica
by David Schulman January 25, 2009
" Howard Levy's house in Evanston, Ill., is filled with musical instruments: ocarinas, keyboards, percussion and especially harmonicas. When he was just a teenager, Levy took a regular dime-store harmonica and figured out how to play a full chromatic scale. His harmonica virtuosity has since landed him gigs with artists ranging from Tito Puente to Garrison Keillor to Bela Fleck. Levy was a founding member of the Flecktones..........
."It can be everything," he says. "Music can be a political act, it can be a mating call, it can be a mathematical equation. They're notes, but you can imbue those things with any shade of meaning or emotion that you're capable of...." read more at NPR.org website
more interview and video clips at Howard Levy website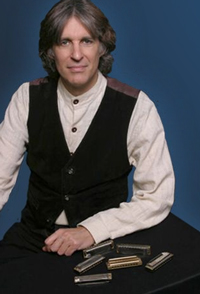 Howard Levy is a musician without limits. His musical adventures include journeys into jazz, pop, rock, world music, Latin, classical, folk, blues, country, theater, and film. He has appeared on hundred of cd's, won a Grammy (1997), won a Joseph Jefferson Award (1986) for Best Original Music for a Play, and has performed many times on American and European television and radio.
Universally acknowledged as the world's most advanced diatonic harmonica player, Howard developed a fully chromatic style on the standard 10 - hole diatonic harmonica, revolutionizing harmonica playing and taking the instrument into totally new territory. He is also an accomplished pianist and composer, and plays many other instruments as well, including flute, ocarina, mandolin, saxophone, and percussion.
Howard was a founding member of the Bela Fleck and the Flecktones. He toured and recorded two albums with Kenny Loggins, and formed Trio Globo with Eugene Friesen and Glen Velez . Howard has also performed and/or recorded with Dolly Parton, Styx, Bobby McFerrin, Paul Simon, John Prine, Paquito D'Rivera, Ken Nordine, and many others, as well as touring and recording extensively in Europe with artists such as Rabih Abou Khalil and Michael Riessler. Recent Highlights
In 2003, Howard released a jazz duo cd with Naumberg Award-winning pianist Anthony Molinaro, entitled The Molinaro/Levy Project "Live". In 2002, he performed "On the Other Side..." (a triple concerto composed for him, a clarinetist and an accordianist) with The Bavarian State Radio Orchestra in Munich, Germany. In 2001, Howard was commisioned by The Illinois Philharmonic to compose a Harmonica Concerto, the first ever written for diatonic harmonica. Since the debut, he has performed it 9 times, with more perfomances scheduled.Education
Howard Levy studied piano and theory at The Manhattan School of Music in N.Y. for four years, then studied pipe organ with Carl Lambert for two years. He attended Northwestern University in Evanston, IL for two years, playing in the Jazz band.
As a music educator, Howard has taught hundreds of students privately, and has been a guest lecturer at Harvard, Berklee, Dartmouth College, Northwestern University, Francis Parker School, given jazz clinics at high schools, and has given hundreds perfomances of "Music from around the World," a program of international music for children and adults.
He also taught harmonica for 7 summers at The Augusta Heritage Arts Workshop in Elkins, WV, and World Music in 1984 at The Omega Institute in New York.
Howard has an instructional video on Homespun Tapes. Called "New Directions for Harmonica". It deals with every aspect of Howard's revolutionary techniques, repair and adjustment of the harmonica, improvisational music theory. There is even has a section using ultrasound that shows the inside of a harmonica player's mouth as he plays..
source: www.levyland.com
YouTube video clip - Howard playing Amazing Grace in London, 2007