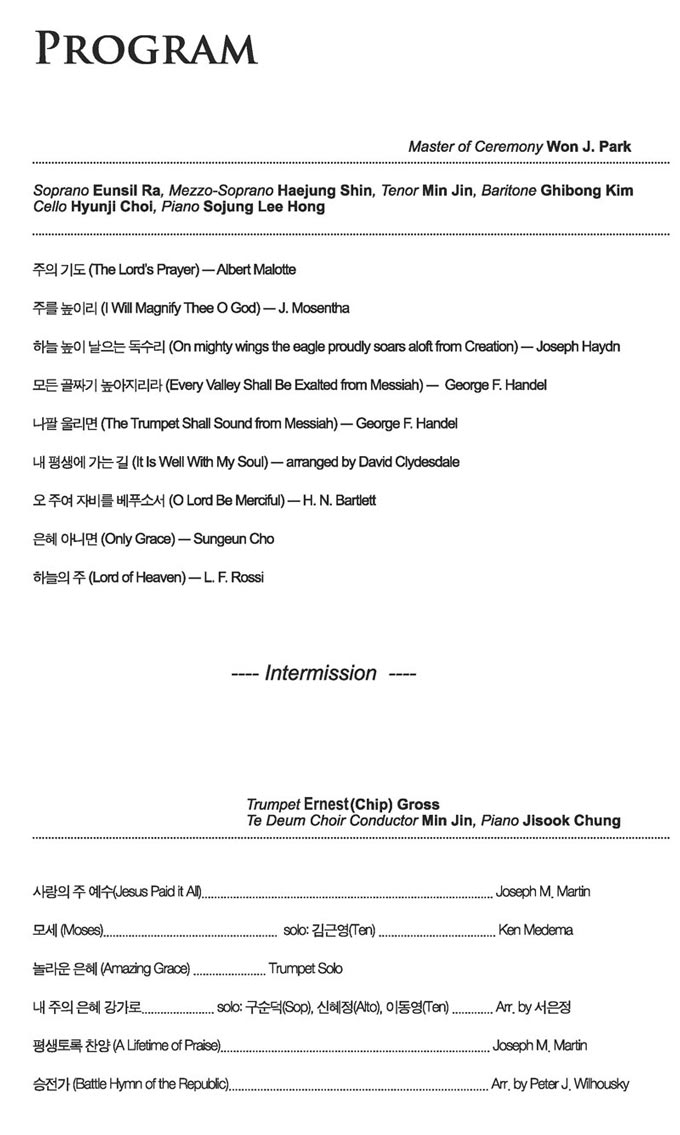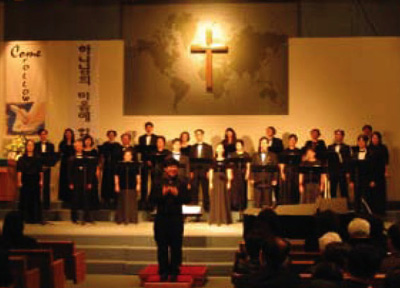 테데움 (Te Deum) 합창단
테데움 (Te Deum) 은 테데움라우다무스(Te Deum laudamus) 의 약자다. 라틴어로 "하나님, 우리는 주님을 찬양하나이다"라는 뜻으로 성부 하나님과 성자 그리스도에 대한 라틴 찬송곡이다. 여기서 이름을 딴 테데움 합창단은 1996년 시작돼, 15년동안 교회 음악을 전문적으로 연주해 왔다. 현 제자교회 담임인 박화신 목사가 창단하여 지나해 까지 지휘하였고 이어서 현재 전철민 교수가 지휘하고 있으며, 금년 5월에 제 27회 정기 연주회를 앞두고 있는데 대부분 성악 전공자들로 구성돼 있다
top.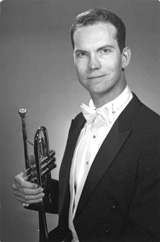 Dr. Gross came to Judson University in Elgin in 1997 as Director of Instrumental Music after serving as Director of Bands at Sterling College in Sterling, Kansas. He also served as Music Director of the Elgin Community College Civic Orchestra from 1998 until 2002, when he founded the Judson University Community Orchestra. Dr. Gross is the Director of the Judson University Symphonic Band, University/Community Orchestra, The Judson Brass, and the Handbell Choir, and teaches applied trumpet, trombone, tuba, brass methods, instrumental conducting, music history, and music appreciation. He also serves as the Chair of the Music Division.
Ernest Gross studied orchestral and operatic conducting at Indiana University with Thomas Baldner and Brian Balkwill, where he conducted the five I.U. orchestras, including the Chamber Orchestra and the I.U. Philharmonic in various rehearsals, readings and performances. Dr. Gross has also attended conducting seminars taught by Andre Previn, Jorge Mester, Maurice Abravenel, Lawrence Leighton Smith, and Mark Camphouse.
After graduating from Indiana University, he served as Band Director at Hargrave Military Academy in Chatham, Virginia, Assistant Band Director at McCleskey Middle School in Marietta, Georgia, and Jazz Ensemble Director at Centenary College of Louisiana in Shreveport, where he directed the music for a production of On the Twentieth Century at the Marjorie Lyons Playhouse, and served as Band Director at Sterling College, Sterling, Kansas.
He is also an accomplished soloist on the natural trumpet and cornetto in addition to playing orchestral, solo, and chamber music on the modern valve trumpet. He has performed with a variety of symphony orchestras and early music groups, including the Shreveport Symphony Orchestra, the Anderson Symphony, Anderson, Indiana, the Columbus, Indiana Pro Musica Orchestra, and the American Baroque Ensemble, as well as the Indiana University Philharmonic, Chamber, and Baroque Orchestras. He keeps an active schedule of solo recitals, and chamber brass performances. Presently, Dr. Gross performs with the Barrington Brass Quintet in Barrington, Illinois.

---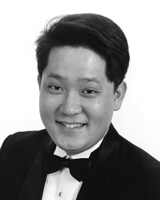 Baritone GhiBong Kim, born in Daegu, Korea, received his Bachelor's de­gree in Voice Performance at Seoul National University. Then he went to Parma, Italy to study at "Arrigo Boito" Conservatory which Renata Tebaldi and Claudio Abbado had at­tended. He graduated with the highest academic points. He was also the finalist at Tito Schipa Voice Competition in Lecce and at Flaviano Lavo' in Piacenza, Italy. His major teachers include Sherrill Milnes and Inci Bashar.
Mr. Kim's first professional appearance in Italy was as Cola in Paer's Camilla at Teatro Regio di Parma. Following this success, he was consequently engaged to sing as Belcore in Elisir d'mor, as Marcello in La Boheme, and as Rigoletto in Rigoletto with the same company. Other roles have included are (Lucia Di Lammermoor), Renato (Un Ballo In Maschera) and Valentine (Faust).
Since moving to the United States, Mr. Kim has been an active performer, not only in operas, but also as an oratorio soloist. Mendelssohn's Oratorio Elijah is his signature oratorio role. In 2006, Mr. Kim made his Chicago debut as Conte in Le Nozze di Figaro at Chicago Chamber Opera with the Northbrook Symphony Orchestra. Other roles include Germont in La Traviata with the Elgin Opera and Morales in Carmen at the DuPage Opera Theater.
As a winner of the prestigious international competition "Rocca delle Macie" in Siena, he was invited to perform at the Grosser Rathaussaal, in Passau, Germany. He was also invited to sing at Verdi's 185th Anniversary Opera Gala at Teatro Regio in Parma and Millstatt Opera Gala presented by the Dante Alighieri Association in Millstatt, Austria. Currently, Mr. Kim is a voice faculty at Judson University, Elgin, Illinois, and serves as the music director at Alliance Fellowship Church, Hoffman Estates, IL.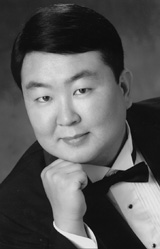 Tenor, Min Jin, has been describes as "… an admirable artist, combining easy lyricism and emotional intensity." The press further credits Dr. Jin as "…possessing a positively clear, ringing voice, perfectly placed upper register that is an unmitigated joy. His top notes just sail through the air and are so gorgeous in timbre." His ringing tenor has delighted audiences of concert and opera performances throughout Canada, Korea, Mexico and the United States.
He has appeared in many of the major concert halls throughout the Metropolitan area such as Carnegie Hall as a recitalist, opera performer, as well as an oratorio soloist with choral societies. As a soloist, he performed Haydn's Creation, The Seasons, Handel's Messiah, Mozart's Coronation Mass, Requiem, Dubois's The Seven Last Word of Christ, Mendelssohn's St. Paul, Elijah, Beethoven's Missa Solemnis, Mass in C Major, and his Symphony No. 9, Frank's Mass in A Op. 12, and Schubert's Mass No. 2 in G, Mass in A-flat among others with Rochester Philharmonic, New Jersey Philharmonic, Russian National Symphony, Yucatan Sinfonia, Geneseo Symphony, Toronto Sinfonia, Toronto Philharmonia, Eastman Philharmonic, Palisades Orchestra, Texas BC Orchestra and Quad City Symphony.
His opera performances include LaBoheme (Rodolfo),Lucia di Lammermoor (Edgardo),Romeo et Juliette (Romeo), Carmen (Don Jose), L'elisir d'amore (Nemorino), La Rondine (Ruggero), La Traviata (Alfredo), Tosca (Cavaradossi), Otello (Otello), Manon (Des Grieux), Werther (Werther), A Midsummer Night's Dream (Lysander),La Vera Costanza (Masino) and several roles with New Jersey State Opera, Aspen Opera, Mercury Opera, Dicapo Opera, Academic Opera, Mannes Opera, Eastman Opera, Kwang Ju City Opera and Po Hang City Opera. He appeared with Aspen Opera where he sang the role of Duke in Rigoletto under the baton of Julius Rudel. Most recently, he performed the roles of Nemorino in L'elisir d'amore at Mercury Opera. The Democrat and Chronicle praised his performance as Nemorino as being "unfailingly sensitive".
He was a First Prize winner of the Artist International Music Competition, Korean Music Association Competition and a winner of the Heida Hermann International Voice Competition, the Caruso International Voice Competition, and the Oratorio Society Voice Competition. He holds a Doctor of Musical Arts in Vocal Performance from the Eastman School of Music. Currently, Dr. Jin works as a voice faculty on the Grand Valley State University in Michigan.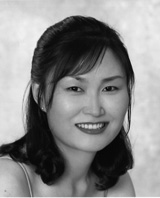 Soprano Eunsil Ra Kim, born in Seoul, Korea, began playing piano at the age of five and taking voice lessons at age eleven. She received a bachelor's degree in voice performance at Seoul National University. While she was studying at Seoul National University she was chosen as a soloist for 'French Art Song Festival' at The National Theatre of Korea and 'American Art Song Festival' at Seoul Arts Center.
Eunsil Ra continued her music studies in Italy at the Academy Jupiter in Genoa and at the National Conservatory of Music, 'Arrigo Boito' of Parma majoring in voice and vocal education. While she attended the conservatory, she performed as a soloist at "Pasqua" Concert at San Giovanni Basilica with the Parma Conservatory Orchestra. While she was active as an art song and oratorio soloist in Italy, her talent and training on keyboard led her to serve as an organist at Evangelic Methodist Church of Piacenza for six years and at Evangelic Methodist Church of Cremona for three years.
Since coming to the United States, she has performed as a soloist at the Chicago Voice Ensemble Concert and the Scholarship Benefit Concert for Korean Young Artists at North Shore Center for Performing Arts in Skokie. She was also a soloist of the oratorio Elijahperformed at Gospel Presbyterian Church in Schaumburg and Creationat Alliance Fellowship Church, Hoffman Estates.
She served as a conductor of Korean YWCA Choir in Chicago. Currently, she serves as the conductor of Zion Choir and the Children's Choir at Alliance Fellowship Church, Hoffman Estates, Illinois.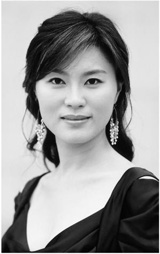 Mezzo-Soprano Hae-Jung Shin, a native of South Korea, is currently DMA (Doctor of Musical Arts) Student at University of Colorado at Boulder. She is in the studio of Julie Simson and a recipient of the Gregory Philip Ranno Excellence in Music Award. Ms. Shin received the Bachelor of Music degree from the Korean National University of art and the Master of Music degree from the Eastman School of Music. She also was a Professional Studies Diploma Candidate at Mannes College of Music.
She won overall first place and was named 'Singer of the Year' at the 2005 NATS Competition in Lincoln, NE. She also won the second place in the DLOG(Denver Lyric Opera Guild) competition in 2005 and 2006. Ms. Shin made her Cincinnati Opera debut as Mercedes in Carmen in 2004 and Port Opera debut as Mercedes in Carmen in 2005. She participated in apprentice artist program at Des Moines Metro Opera in 2007.
Ms. Shin performed the role of Cherubino in Le Nozze di Figaro at CU. Other roles include Hansel in Hansel and Gretel, Dorabella in Cosi fan Tutte, Maddalena in Rigoletto, Cherubino in Le nozze di Figaro, Zerlina in Don Giovanni, Suzuki in Madame Butterfly, Zitta in Gianni Schicchi, Don Ettore in La canterina, Octavian in Der Rosenkavalier, Orlovsky in Die Fledermaus, Lucrecia in The Rape of Lucrecia, Juno in Semele, Elmire in Tartuffe by Kirke Mechem and Cat/ Squirrel in L'enfant ed les sortileges.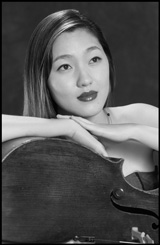 Hyun Ji Choi earned her bachelor's degree from the Juilliard School and her master's degree from the Eastman School of Music both as a scholarship student. She is a winner of several competitions including New York String Teachers Association and Young Artist Chamber Music Competition and was selected to perform in many of the leading halls in the United States including Alice Tully Hall of the Lincoln Center, Weill Recital Hall at Carnegie Hall, and Juilliard Theatre.
She has participated in many music festivals including, Pacific Music Festival, National Orchestral Institute, Toronto Music Festival, Aspen Music Festival, and Killington Music Festival. She participated in the masterclasses led by Janos Starker, Dennis Brott, and Clive Greensmith of Tokyo String Quartet.
She is working on her doctoral degree on performance at the Eastman School of Music as a graduate award recipient, and a secondary teaching assistant for Professor Alan Harris. Currently, she is a member of Civic Orchestra of Chicago.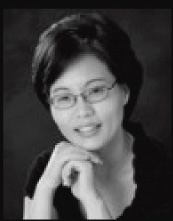 Sojung Hong has enjoyed her dual career as a performer and educator since she joined music faculty at Judson University. Born in Seoul, Korea, she received her early music training at Yewon Arts Middle School and Seoul Arts High School, Korea. The honorable awards include the President's Award from Seoul National University and the Founder's Award from Seoul Arts High School as valedictorian.
After receiving Bachelor and Master of music degrees in Seoul National University, she continued her study at the University of Illinois at Urbana-Champaign with Professor Ian Hobson and earned a Doctor of Musical Arts degree in Piano Performance and Literature with a minor in Accompanying. During her doctoral studies, she was awarded the first prize at the Irene Tintner Piano Competition, and subsequently invited as a soloist for the Germania Orchestra Concert in Saginaw, Michigan. In the U.S. she has appeared as a recitalist in Illinois, Michigan, Ohio, Pennsylvania, and New Jersey, and gave concerto performances with Valley Civic Orchestra, Elgin College Community Orchestra, and Judson University Community Orchestra. She has also given many solo and chamber music recitals at such major venues as the Seoul Arts Center, Sejong Arts Center, and Hoam Arts Hall in Korea.
As an educator, Hong was invited as a performer twice at the conferences of Illinois State Music Teachers Association. In 2011, she is invited as a presenter at the Green Lake Regional Conference and International Conference of College Music Society. She also taught as a guest artist-teacher at Suwon Women's College Summer Piano Institute and Eum-Youn Summer Piano Academy, Korea.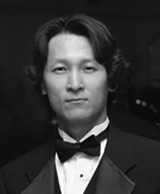 Won J. Park is the producer and the host for KBC TV Ch.41's popular evening show News Magazine for 5 years.
Prior to TV, he was announcer and DJ for various radio stations including Seoul Broadcasting, Radio Korea, and KCBS.
Park also has a professional music career as a choir director, composer, and jazz piano.
Ticket:
Special Sponsor $50 | Music Lovers $30 | General $25
(예매처: 생명의 말씀사 847-296-3160 아씨 마켁 건너편
For Sponsorship and Information - call 847-890-1655
North Shore center for the Performing Arts in Skokie
9501 Skokie Blvd. Skokie, IL 60077
The North Shore Center for the Performing Arts in Skokie (NSCPAS) is conveniently located on Chicago's vibrant North Shore, approximately 30 minutes from the Loop. The area features numerous dining options, excellent hotels, and some of the finest shopping in the nation. The NSCPAS is located just east of I-94 (Edens Expressway) making it easily accessible to all of Chicagoland. For complete directions click here.
Google Map
View Larger Map
---