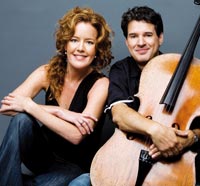 Desiree Ruhstrat, violin
The violin artistry of Desirée Ruhstrat has captivated audiences throughout Europe and the Americas. As the Berlin Taggespiegel wrote, "…she played with such an intensive fire and sleepwalking assuredness that she was stormily celebrated by the audience." A seasoned performer, Ms. Ruhstrat made her professional debut at the age of twelve with Lukas Foss and the Milwaukee Symphony Orchestra. At 16, Ms. Ruhstrat was invited by Sir George Solti to perform Tchaikovsky's Violin Concerto in Chicago's Orchestra Hall.
Ms. Ruhstrat has appeared as a soloist with orchestras throughout the world, including the Berlin Radio Symphony, Gottingen Symphony, Philharmonia Da Camera, Radio Suisse Romande, Orchestra Symphonica Auguescalientes, Colorado Symphony, Oregon Symphony, Concerto Soloists Of Philadelphia, Chicago Civic Orchestra, Debut Orchestra of Los Angeles, Concord Chamber Orchestra, Concertante Di Chicago, and National Repertory Orchestra, and worked with such conductors as Eric Kunzel, William Smith, Rico Saccani, Brian Priestman, Mats Liljefors, and Max Rudolph, among others. Ms. Ruhstrat has won numerous awards including first prize at the National Young Musicians Debut Competition in Los Angeles, where she was also lauded a special award for a young performer with extraordinary talent. She became the youngest prizewinner at Switzerland's Tibor Varga International Competition and also won the award for best interpretation of the commissioned contemporary composition. She went on to earn top prizes at the Carl Flesch, Julius Stulberg, and the Mozart Festival Violin Competitions.
Ms. Ruhstrat's distinguished career as a chamber musician includes performances throughout the US as a member of the Lincoln Trio, including the Dame Myra Hess Memorial Concert Series, Oakmont Chamber Series, Indianapolis Symphony Beethoven Series, Ravinia Festival, and Music in the Loft. She has also appeared as guest artist of the Chamber Music Series of the Philadelphia Orchestra, the Apollo Chamber Ensemble, the Colorado Chambers Players, Pacifica Quartet, the University of Oklahoma, Wisconsin, Tennessee, and Northwestern University Midwinter Series with Jorge Federico Osorio and Ani Kavafian, as well as collaborations with Shmuel Ashkenasi, Ilya Kaler and Roberto Diaz. Festival appearances include the Aspen Music Festival, Peninsula Music Festival, Laurel Festival of the Arts, the Breckenridge Music Festival and the Green Lake, University Of Wisconsin, Utah Music Festival, and ARIA International Summer Academy, where she has also served as faculty.
Ms. Ruhstrat is a graduate of the Curtis Institute of Music, having studied with Joseph Gingold, Harold Wippler, and Aaron Rosand. Her discography includes the Stamitz Duo for Violin and Viola for Centaur Records and the Ravel Duo for Violin and Cello for Albany Records, and multiple recordings with the Lincoln Trio on the Cedille label.
David Cunliffe, cello
Cellist David Cunliffe began studying at the age of nine in his native England. Three years later he was chosen to receive a scholarship to the Royal College of Music in London. In 1984 Mr. Cunliffe went on to study at the Royal Northern College of Music where he founded the Argyll String Quartet and was the recipient of the Terrance Weill and Leonard Hirsch Quartet prizes and the Lady Barbirolli Chamber Music Award.
His teachers included Margaret Moncreiff, Moray Welsh, William Pleeth, Christopher Bunting and Ralph Kirshbaum. He completed his studies at the International Yehudi Menuhin Music Academy in Switzerland where he studied with Radu Aldulescu and toured throughout Europe with Yehudi Menuhin and the Camerata Lysy.
In 1995 he was asked to join the Balanescu Quartet, touring extensively to Australia, Europe and the United States appearing frequently on radio and TV, including featured performances on NPR and the BBC. He has served as Principal cello with the RNCM Chamber and Symphony Orchestras and for performances with BBC Philharmonic, BBC Scottish and Royal Scottish Symphony Orchestras. Mr. Cunliffe can be heard on various recording labels including Enja, DMD, Albany and Cedille.
A founding member of the Virtuosi Chicago Chamber Orchestra, Mr. Cunliffe is currently on the faculty of the Music Institute of Chicago and is a member of the Lincoln Trio, ensemble-in-residence at the Music Institute of Chicago.