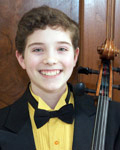 14-year-old cellist Johannes Gray is an active member of the Music Institute of Chicago's prestigious pre-collegiate Academy Program where he holds the 2012 Betsey and John Puth Academy Fellowship. As an Academy Fellow, Johannes takes part in music theory and master classes, as well as chamber music and orchestral performances. For the past 11 years he has studied with MIC's artist faculty members Hans Jørgen Jensen and Gilda Barston.
Starting cello at age two, Johannes played his first public concert at three, and since then has performed extensively throughout the United States, as well as in Canada, Germany and Switzerland. February of 2012, Johannes was featured on NPR's From the Top radio program, one of the most popular classical music programs on radio, and in May, he will perform with the Chicago Symphony Orchestra as the first place winner of the 2011 Crain-Maling Foundation Chicago Symphony Orchestra Youth Auditions.
Johannes has performed in many venues including Symphony Center's Orchestra Hall, Ravinia's Pavilion Stage and Martin Theatre, the Preston Bradley Hall at the Chicago Cultural Center, Northwestern University's Pick-Staiger Concert Hall, and Ganz Hall, among many others. In addition to performing in traditional venues, Johannes aspires to share his love of music with public schools, senior centers, community libraries, and events for good causes, such as performing a concert for an owl at a zoo. Johannes and his family have presented a biannual 'family concert' at their home since May 2000, when Johannes had just turned three.
He performs repertoire ranging from Beethoven, Brahms, and Dvorak, to lesser-known composers, such as Victor Herbert, Heitor Villa-Lobos, and Pablo Casals. Johannes performed as guest artist with the Elmurst Symphony Orchestra, the Highland Park Strings, the Skokie Valley Symphony, the Oistrak Symphony Orchestra, and the Midwest Young Artist's Symphony Orchestra.
In addition to the 2011 Crain-Maling Youth Auditions, Johannes has been awarded first place in many other competitions such as the Walgreens National Concerto Competition, the Sejong Music Competition where he received a special award for Best Interpretation of the Korean Piece, all four age divisions of the Chinese Fine Arts Society Music Competition in Honor of Confucius, as well as its Amei Hu Lin Scholarship Duet Competition, with pianist Ryan Jannak-Huang, the DePaul Concerto Festival for Young Performers, and the Society of American Musicians Competition.
Johannes has played for a number of today's leading cellists including Aldo Parisot, Amit Peled, Anthony Elliot, David Finckel, Janos Starker, Laurence Lesser, Lynn Harell, Ralph Kirshbaum, Robert Nagy, Timothy Eddy, Wendy Warner, and Yo-Yo Ma. In addition to playing for Yo-Yo Ma, Johannes had a chance to collaborate with him in chamber music. Also, Johannes performs chamber music with his family string quartet and clarinet quintet the Shades of Gray. For the last two summers, Johannes participated in the Young Performers Program at Music@Menlo in Menlo Park, California under the direction of David Finckel and Wu Han.
Outside of music, Johannes loves birds and is an avid reader. His favorite author is Michael Crichton, because of the scientific aspect of his fiction books, as well as his compelling writing. He practices his cello every day under the watchful eyes of his cat, Athena. Currently, Johannes is a freshman at New Trier High School, where he enjoys his academic classes.